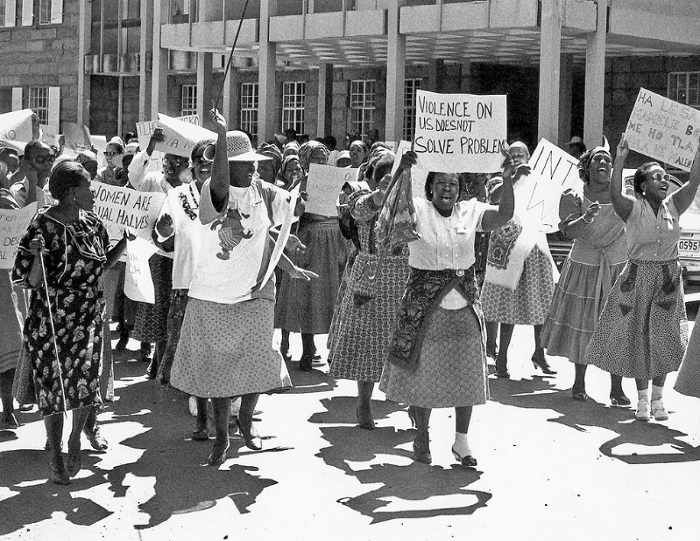 This year marks the 62nd Anniversary since more than 20 000 women marched to the Union Buildings in 1956 to protest the discriminatory pass laws that restricted the movements of black women in South Africa. From this monumental day, Women's Day was born and inevitably, August was dubbed "Women's Month".
August features month long campaigns, drives, marches and events that are meant to not only highlight the importance of women and what they've achieved in our society, but also to bring light to the many issues that they continue to grapple with.
This week we took to the streets to ask women what this month means to them. 22 year old student, Sazi Ncane, said: "I don't care much about women's month as they call it because I just don't see the use of it anymore. Everyday my fellow sisters are being abused, raped and murdered; so what are month long campaigns with catchy slogans going to do for us as women?".
According to research performed by Statistics South Africa (StatsSA), among the numerous problems that women in the country face daily, the most prominent are unequal pay and the constant risk of violence.
Furthermore, a 2017 research study by market research group Ipsos South Africa, found that South African women earn only 73% of what their male counterparts earn. This means that a South African women who is employed to do the same work as her male colleague earns 27% less than him.
"This does not at all shock me. It's something I've always known and something I see happen a lot here at my work place. I mean, when I look at my male counterparts here at the office only a blind man would not see that they earn more than me. I see how much more financial flexibility and stability they have than me and we have the same job descriptions. I work just as hard", said 32 year old banking professional, Sindisiwe Shude*.
"Not cutting me the same pay check as the someone who does the same job I do, only difference being that he is male, is basically telling me 'yes, you do the same job but you don't deserve the same pay check because you're a woman.' In fact that's somebody saying we can't pay you as much because you're female. It's a literal joke how that isn't completely illegal in our country," said 26 year old Amanda Cele.
As mentioned above, women in South Africa do not only have to deal with issues of unequal pay in the workplace. Another social ill is that of violence against women, which has been on a rampant increase each year. Research on violence against women (specifically intimate partner violence) conducted by the Medical Research Council and Centre for Public Mental Health, found that in every eight hours a woman dies at the hands of her former or current partner.
The World Health Organisation (WHO), in a research study, found that roughly 65% of South African women experience abuse from a male counterpart.
"Look on Twitter. Search the hashtags MenAreTrash and MeToo. South African women are dying at the hands of South African men. There are stories of sexual violence, murders and about every single gruesome thing that can be done to a woman; South African men have done it. We fear for our lives, yet they expect us to celebrate women's month in August. The very same country that hates us and is failing to protect us. Me, I have nothing to celebrate," said Ncane.
"I don't have much to celebrate during Women's Month because not only am I underpaid but I live in constant fear of being the next statistic. South African men have waged a war against South African women. They're out for our minds, our bodies, and our souls. It's scary really but this is the reality for us women, not those fluff campaigns they create during Women's Month," Cele elaborated.
Today I had the honor of being MC at the #NWU for a depression Awareness campaign organized by the #EFFSC not only did we address Mental health but issues that affect women on a daily basis, it was great to be surrounded by such strong, revolutionary women.#WomensDay#EFF pic.twitter.com/rRMcDnw3pO

— Pineapple ? (@Gogontle_Gugu) August 9, 2018
— Thabisile Ngeleka