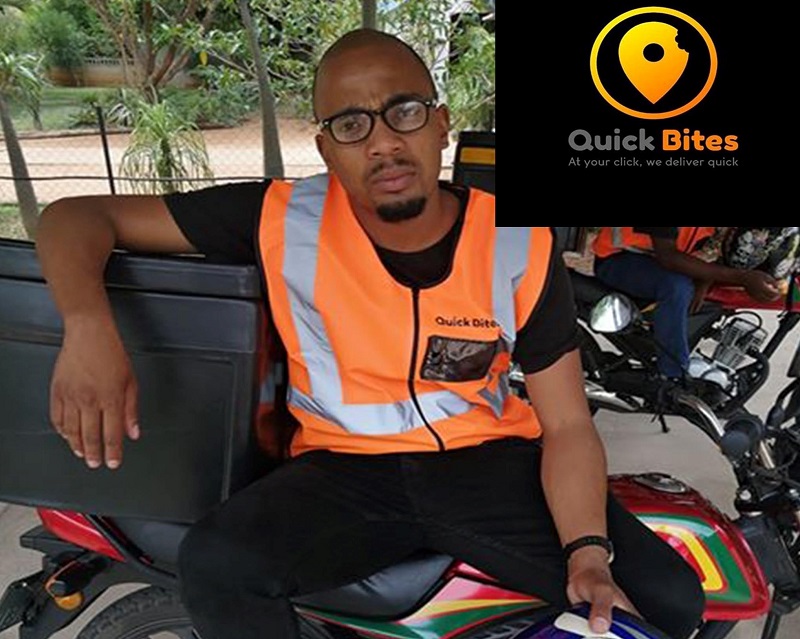 Technology has paved the way for young people to cease opportunities and become innovative entrepreneurs. Online delivery services are making lives easier for the ordinary citizen that's frequently on-the-go. With the introduction of international delivery and transportation services such as Uber, Taxify and Mr Delivery, these have prompted many local entrepreneurs to come up with their 100% black owned versions of similar services.
Imagine Uber Eats delivering not only your restaurant ordered food but going the extra mile of delivering your groceries, alcohol and even medical supplies. Quickbites does just that, and more! Founded by 25 year old More Regomoditswe in January 2019, the super-fast and efficient food delivery service based in Lephalale Limpopo, has grown to employ more than 16 people in other cities. Quickbites now operates in Venda, Giyane, and Makhado.
Having started with only one driver, Rego speaks on the success that is Quickbites and how they are competing with major international companies. "We have partnered with big brands such as McDonald's, Barcelos, and Spur to name a few, as well as small food stalls. We charge a minimum of R20 for a delivery. Going online was a good business move as it provided people with an easier alternative of requesting our services."
Their simple ordering system works slightly different from their competitions'. Customers can order food from their favourite restaurant. They then hit them up on their preferred networks Facebook or WhatsApp or directly call them.
As a trainee at Eskom working for a salary between R4000 to R5000, Rego said that the job was not guaranteed and was later told they were not going to be hired. Weighing his options, venturing into business seemed like a better choice.
"There is a lady friend whom I spoke to and told her of my business plan. We discussed everything and then she helped with registering a company."
The way his business grew and blew up 'shocked' Rego. Till this day he is still in disbelief at how successful it has become. "I took a risk and I'm making a living off of that risk. However I'm still facing major problems of which at times make me feel like quitting but I remind myself why I started out in the first place. The people I employed will end up jobless and that is also one of the motivating factors to keep pushing.
"I would appreciate more funding that would help me with a fleet of bikes. Also, improve the technological side of my company by having a more efficient app that is user friendly. I would also love to improve on our marketing strategy. We tried this Facebook thing and we have seen how many people don't know about us and our services, despite the reception being very good," he said.
Having the right people in your corner is important when in business and there has to be mutual trust to prevent misunderstandings. Rego is planning on opening another business called 'Bathusi' where he is looking to help take approximately 10 000 people off the streets and employ them. He hopes the government can assist in providing the necessary resources and help him in his quest to fight unemployment.
The businessman feels like he has the ability to perform his duties with adequate help form the government and the right people. He believes in the saying 'you need to spend money to make money', and that is what investors look at when deciding if they are going to assist a start-up or not.
The optimist says that being hands-on in all his businesses is a priority and is wishing to turn Quickbites into a Multinational by slowly progressing to other provinces in the country first, before going big.
To contact the company you can Whatsapp, SMS or Call them on +27 65 293 0635 or drop a message on their Facebook page: @QuickbitesZA.
~ jess@ngcoboempire.co.za