Growing up in a musical household sparked her affection for music; a passion that she has been sharing with people all around South Africa, and imminently to the international stage.
Jazz and Popular Music student, Nosihe Zulu took center stage during the live recording of her EP at the Jazz Centre in UKZN's Howard College Campus on 28 August 2019 – a project she deems uncut and unfiltered.
Apart from being a music student, she is also a songwriter, a band leader and session vocalist. This dream has led to the creation of her movement called the #UncutExclusive.
"We're in a world where everything is curated and should be in its perfect and finished form, I want to bring people along the messy road because that is life. At the moment my music is not in any genre, I want people to get an opportunity to listen to it unedited," Zulu said.
The songstress performed eight of her songs before a diverse audience that cheered and sang along to her tunes. During her appearance, she presented a piece dedicated to her mother titled 'Phindiwe'. The audience even requested a repeat of the song when her mother walked in. The breath-taking singer was joined on stage by four members of the band: Freeman Gumede on bass, Thabo Sikhakhane on trumpet, Lesedi Thloloe on drums and Sanele Phakathi on piano.
With all the experience Zulu has gained in the music industry (in 2016 she participated in Season 12 of South African Idols and secured herself a position in the top 8) she is confident that her craft has evolved and determined to reach the goal that she has set for herself.
Her voice and charming personality have enabled her to mature in her art, as she has collaborated with remarkable international artists and producers. In 2018 she was featured in a song by Echoes Studio titled "When it's over" and has sang alongside other exceptional talents.
"There's power in collaboration. I might not see the fruits of it now but I am an advocate for collaborating with people. I'm always keen on doing it because when you work with different artists you gain knowledge and help each other blossom', she proclaims.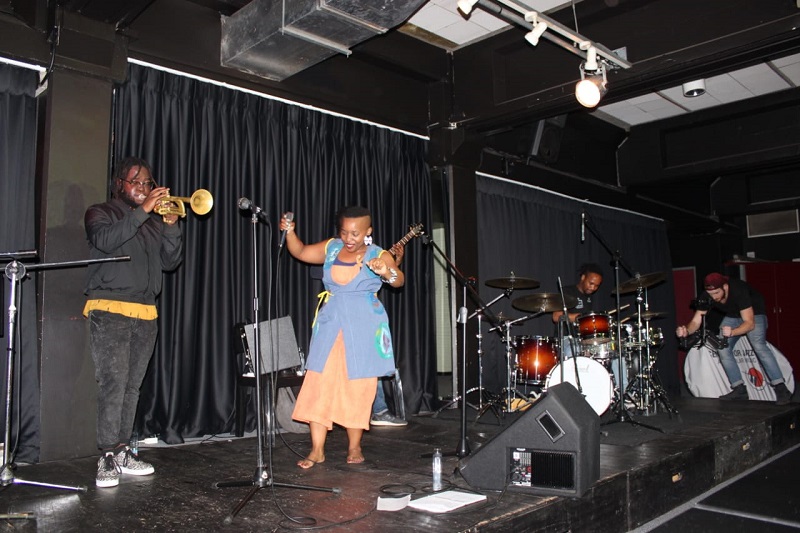 According to her business partner, Mr MediaX, working with the songstress is both good and challenging because she is hungry for success and growth.
"We work well together due to us being hungry and wanting to create relevant content and give people an experience of music in a new way. We help her do what she does best and in other ways she also helps us. Teaming up with someone who listens to you and also wants you to succeed is a remarkable gift anyone could receive," he said.
The former Idols contestant explained that she is still in disbelief that she has gained so much growth in her career. She also expressed immense gratitude to all the people who purchased tickets and took time off their schedules to watch her perform. This, to her, is motivation to do better and to keep writing about her life experiences.
Moving forward, Zulu intends on completing her EP so she may continue blessing her audience with soulful sounds.
~ fundizungu@ngcoboempire.co.za