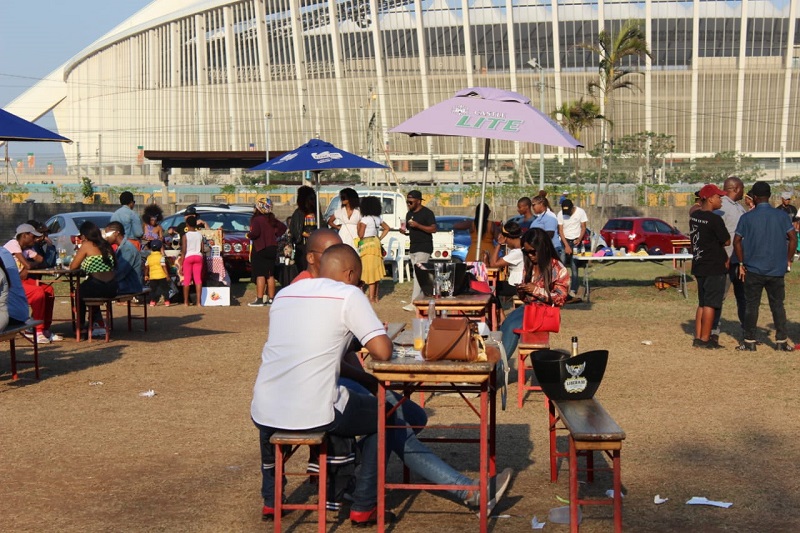 An award-winning foodie, The Conjunktion conducted an which embraces different talents that people possess in food, art or entertainment. The group mainly serves food, but they do promote other skills that people offer within the Creative industry.
The Conjunktion Experience is a platform that enables other individuals to display their businesses, as they are provided with free stalls to set up at Whirling Wheels Social and Sports Club in Windermere, Durban. This is the first event they have hosted, hence they were excited about the turn out.
A few of the works displayed at the experience were Dominant Allele by fashion designer Goodman Ngcobo, Crazy Art by Nonto, Art by Fuze and some homemade ice-cream from the Tapa Chef. This proves that the event was created to help small / local businesses to bloom in their chosen markets.
Some of the people that attended the event for exposure claimed that this was their first time making an appearance in a space occupied by over 100 guests. For them it's a remarkable way to gain more customers and to learn about other people's trades.
"We are grateful for receiving a chance to showcase our work. This means more people will leave here aware of what services we offer at the African Pearl Health Spa. At the moment we do house calls and events like weddings where we offer massages, manicure, pedicure and other services rendered by most Spas," said Bomikazi Ncube.
The experience consists of two sessions, one that caters for both children and adults during the day and another one open for just adults during the night. There were two bars at the venue with drinks for adults to indulge in. The program of the day was delivered by drama student Tamia Mathonsi and her co-host Jabulani who is also friends with the group.
A live set was played by Durban based DJ Ironrodd, followed by a performance from singing sensation Ndumo who has made an appearance on Idols. This event proves to be about more than making profit but also for networking reasons as it is crucial in this type of business environment.
To show their gratitude to those that attended the experience, the organizers created a game for the audience to play in order to stand a chance to win the "foodie of the day' hamper. All they needed to do was to buy from as many stalls from 11 am to 4 pm and for each purchase they received a sticker that served as proof of participation.
"We organised this event in order to demonstrate the creative side of The Conjunktion and also to assist young creatives in Durban that availed themselves to showcase their craft. We want to bring people in a space fit for them to socialize and network, keeping in mind that we might work together in the future," said founder Simphiwe Asiedu-Adjei.
According to him, the event was a success and due to that, they might consider making The Conjunktion Experience an annual event. The hardworking team appeared to be humbled by the outcome of their work and planning. They continued to show appreciation by repeating the words 'thank you' and summing up the day's activities as having been a productive day.
~ fundizungu@ngcoboempire.co.za