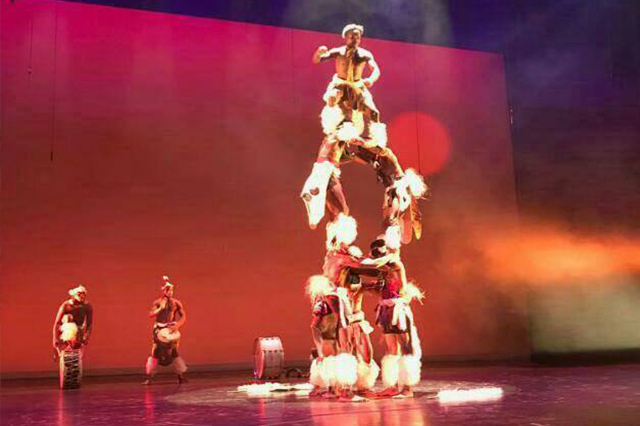 The roaring sound of young men singing Zulu songs of yesteryear, backed by the aptly timed banging of drums and bodies thrust into the air, are all a feast for the senses that spectators are so lucky to behold.
All of this is courtesy of a traditional dance group, Kangaroo Zulu Dancers. True to their slogan "It is in our veins to make people happy", the KwaZulu-Natal dance collective is quite the crowd pleaser notably drawing and entertaining crowds all throughout the country.
Made up of more than 30 young men, they describe themselves as 'energetic, proud and talented'. The young men place emphasis on their work ethic, dedication and commitment.
According to their director, Vumani Gasa, this is a great feat for the boys especially because of some of their backgrounds. Gasa tells us that a large number of the group members come from dire circumstances with six of his members being orphans.
The situation however, has not hindered any of the boys from consistently performing at their utmost best. Week after week they push themselves to deliver stellar traditional indlamu, gumboots, umshameni, isikhuza, umzansi and ispanstula routines to audiences.
The Kangaroos, despite their success today, have not been without their fair share of challenges. Dating as far back as 2007 when they got their start in the entertainment and arts industry, they were part of bigger collectives that eventually disbanded as the years went by.
Gasa explained that this was largely due to the lack of professionalism by some of its past members as well as mismanagement. Alongside other dedicated members, they eventually decided to form what we now know as the Kangaroo Zulu Dancers.
Together with Ayanda Mngadi, Sakhile Shezi and Mhlonishwa he decided to overhaul their image and lend a helping hand. They started to look at the ways in which they could use it to educate the youth about culture and dance. They then registered the group as a Non-Profit Organisation (NPO) that would assist young people coming from backgrounds as disadvantaged as its own members.
Their main aim is to encourage the youth to defy their circumstances and participate in cultural activities. By doing so they believe that they will utilise their time productively by shielding themselves from social ills.
The new found social responsibility and professional reputation has helped them in their engagement with government departments, making it easier to run as a sustainable organization.
"We then received more followers and started receiving invitations to perform at weddings, traditional ceremonies and events," said Gasa.
The group has performed at festivals in New York City (USA), Ingoma Kwa-Zulu Natal Dance Company directed by reknowned director bab՚Duma Ndlovu, at the traditional wedding ceremony of Minnie Dlamini and Quentin Jones as well as been awarded a lucrative year-long performance contract for uShaka Marine World.
For bookings, contact Vumani D Gasa: +27 76 279 5427 or email bookings@kangaroozd.co.za
~ Thabisile Ngeleka