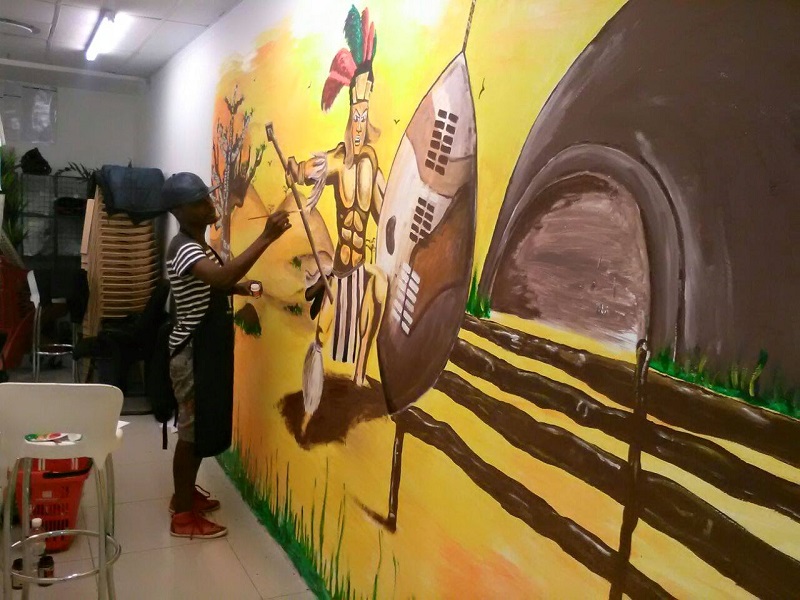 Art speaks to the eyes that listen. There is art and then there is extraordinary art; the kind that conveys a powerful message. There are a lot of talented artists out there who have mastered the 'art' of creating brilliant pieces that speak to the soul.
One of them is Siyabonga Xaba (33) a visual artist who creates portraits, t-shirts, paintings, custom made clothing and shoes. We had the great pleasure of chatting to him about his craft, his African spirituality, and how it inspires his creative process.
Originally from Chesterville, Xaba says that from childhood, he has always been an artist. He loved drawing and would draw the weather map straight from TV. His passion for drawing however, grew when he started primary school and he continued to study arts in high school which led him to study Fine Arts at tertiary level but unfortunately due to personal reasons, he had to drop out and look for a job.
"I want to create a movement which will help black kids recognise who they are through their artistic thoughts."
That setback did not stop him from chasing his dreams. He continued to pursue his passion by creating designs and posting them on his Facebook account. As time went by, his audience grew and that propelled him to create a Facebook page specifically for his craft which has since grown to reach more than 1000 likes today.
Xaba tells us that his work is inspired by what the System is hiding from us as a nation. He says that once you are woke, you start seeing life in a different dimension so he tries to make sure that his art awakens the sheep.
Xaba is also proud of being an artist that is deeply rooted in his African spirituality. He spoke to us about his spiritual journey of how he was having problems that are connected to a particular 'calling' since he was a child. He grew up with his mother as a highly spiritual person until she became a Christian. He then felt that he was alone in his journey until he went to consult and came to the realisation that he is able to do it alone.
As a conscious individual, Xaba embraces who he is with passion, regardless of what people think or whether society approves it or not – through what he knows and learns daily.
"I always try to awake a sleeping mind or someone who has the same calling to recognise it, embrace it and fight the system through an awaking," he says.
Asked about his popular pieces, he mentions the Evolution of June 16, a Zulu theme mural at the Pavilion and his awaking t-shirt. As far as he's concerned Xaba feels that all of his work has a minor novel to speak. What makes his work unique is the message behind it and that it is hand painted by him.
For orders and collaborations or any other queries, contact him using the following numbers. WhatsApp: +27 74 782 1755 & Phone Calls: +27 82 793 1352
~ Thabile Shange