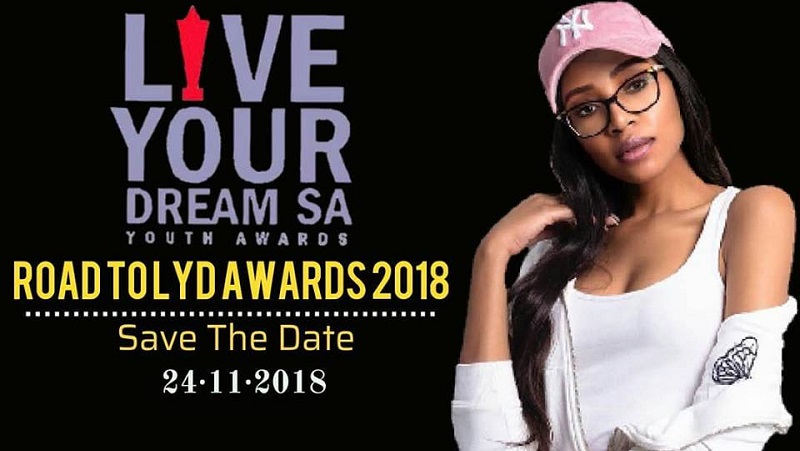 With the purpose of honouring and uplifting all rising entertainment stars throughout South Africa, the Live Your Dream (LYD) SA Awards will be held on the 24th of November this year.
The awards, which have been running for three years, started as a talent show in 2014. The youth expressed a lot of excitement and interest which led to event organisers deciding to do these awards, with the aim of encouraging them to continue with their talents.
There has been significant growth in the number of nominees that have entered the awards this year in various categories which are: Best Actor, Actress, Radio Presenter, Upcoming Artist, Male Model, Female Model, Group, Designer, Photographer, Comedian, Local Film, Dancers, Dj and Poet.
An entertainment brand that is part of the organisers, EzaseDurban announced on Twitter a few days ago that they have received over 62 000 votes so far.
Every award is accompanied by a R1000.00 cash prize and the nominee with the most votes will become the brand ambassador of LYD; pocketing a whopping R5000.00.
One of the contenders who is hoping to clutch onto the Best Upcoming Artist award is Mnqobi Mpilonhle Sithole (28) who is better known by his stage name 'VY Mavivi'. As a Durban Kwaito artist who hails from Applesbosch KwaZulu-Natal, he describes Durban Kwaito Music as different to the usual Kwaito music. VY Mavivi says that Durban Kwaito is fast paced while old school Kwaito has slower beats. He recalls singing when he was only four-years-old, back when Kwaito music was trendy and dominating the airwaves.
"I used to sing Kwaito songs everywhere in the house and I loved singing for my mother when she was doing house chores like washing," he said.
VY Mavivi started recording his music for the first time in 2008 under Dj Sany's Sgubhu After Sgubhu Productions. He later began performing at events in his hometown, which include Municipality events and in taverns. Expressing his excitement as he has been nominated for the very first time at the LYD Awards, VY Mavivi says that winning will motivate him to work even harder.
"It will mean the world to me if I go home with this award. It will also show that indeed people love and enjoy my music," he added.
Mavivi has also been working tirelessly on his campaign for votes. From pleading with his friends and contacts on social media to going on different locations and urging people to vote for him. All he can say at this stage of the competition is that he's hoping for the best of luck because everything is done on his side of things!
To vote for VY Mavivi, SMS LYD289 to the number 45633. A single SMS costs R1,50. Voting lines close on the 23rd of November. The venue for the awards is yet to be confirmed.
Photo Credit: EDK Media website
We have received over 62 000 votes so far. Well done Nominees ??️ it's a great start!! #LYDAwards2018 pic.twitter.com/TRuNymGkPX

— Road 2 LYD Awards 2018 (@EzaseDurbanKzn) September 26, 2018
Check out 'VY Mavivi' on facebook and WhatsApp him on +27 61 121 04827 for bookings.
~ Thabile Shange