Translated to 'beautiful things only', Okuhle Kodwa Productions is a Durban-based company founded and owned by Mbuso Shabalala. Born and raised in KwaMashu, Durban, Shabalala describes himself as a dedicated and a very humble person. His greatest passion is photography and through his work, he says that he is living his dream.
The Film and Television Production graduate started his business after realising that it was time to branch out and be independent – by producing his own content – thus the birth of his baby, Okuhle Kodwa Productions in 2014. The production company is dedicated to creating and delivering content that is compelling, emotive and of high visual quality; as well as delivering on the clients' briefs timeously and effectively.
To date, Okuhle Kodwa Productions has rendered its videography and photography services at weddings, birthday parties and corporate functions. In addition to these events, the company also does private and social functions, music videos, web videos as well as cultural traditions like, Umemulo, Umubondo, Umembeso etc.
When asked what makes Okuhle Kodwa stand out from other businesses in his industry, Shabalala explained that he does not compromise on quality and professionalism. "My clients can testify, we are always on time and we are always open to their ideas. Quality is what distinguishes us from our competition," he said.
Thenjiwe Ka Stimela Mdabe is one of the many happy clients who left a positive review on Okuhle Kodwa Productions' Facebook page, which has a total of 4 651 likes and 4 693 followers. Her post read: "You guys have a winner's attitude and I appreciate the fact that you took us seriously throughout. I enjoyed working with you and you made it easy. Thank you so much. Keep up the good work".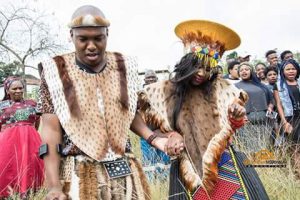 The talented producer recalls the challenges he faced during the initial phase of his business; from having no clientele and no support, to a lack of funding. Shabalala says it was a difficult period.
"The first year was the hardest. I had to survive on freelancing for other audiovisual companies here in Durban," he said. However, his big break came in 2015, when he was hired to use his videography and photography skills for a wedding ceremony. "One wedding lead to another and look at where we are now, still pushing," he added.
Having gone through his fair share of challenges, Shabalala has also had many proud moments. He cites shooting a music video for gospel singer, Ntethelelo (which later won an SABC Crown Gospel Award in November 2017) as his proudest. "The nomination alone was exciting; to go and win amongst the best was a huge privilege and an honour that my work can win awards. I will be forever grateful," he said.
In five years time, Shabalala sees Okuhle Kodwa Productions being one of the best audiovisual companies in KwaZulu-Natal. There is a lot he still wants to achieve and is working on getting a show that he will produce in one of the local television broadcasters. "Watch the space for that, I have given myself to achieve that dream and God will see me through," Shabalala concluded.
Contact +27 81 305 2599 for more details or visit Okuhle Kodwa Productions on Facebook and @okuhlekodwa_productions on Instagram.
— Thabile Shange