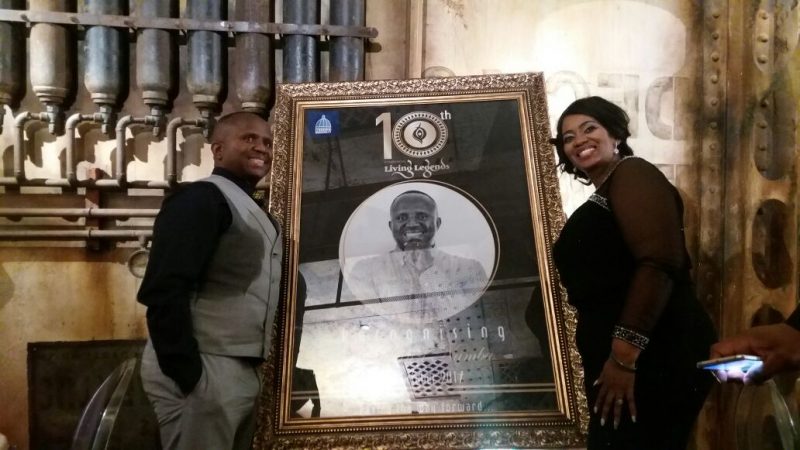 Gospel heavyweight, Pastor Mthunzi Namba was recently decorated with a living legend award as the eThekwini Municipality celebrated its 10th Living Legend Awards anniversary on Saturday, 28th October.
The event, held at the uShaka Marine World Aquarium by the Department of Parks, Recreation and Culture Unity, continued to reflect on the rich legacy of individual leaders, from a number of sectors, whose hard work produces a fruitful impact in other people's lives – especially the youth.
Head of the department, Thembinkosi Ngcobo, described Pastor Namba as a man who has persevered through many challenges and managed to father careers of a number of successful musicians.
"When we talk of a living legend, we do not pick out a person who has accumulated fame, wealth or other temporary things, but instead we seek for a person who has made a lifetime achievement whom he or she can point out an individual and say, because of what I did, I changed someone's life," said Ngcobo.
Pastor Namba is a music composer, one of the founding members of South Africa's biggest gospel music ensemble, Joyous Celebration; and one of the few artists who brought contemporary gospel to South African soil. As a gifted pianist, vocalist, worship leader and producer, Pastor Namba strives to pass his leadership strategies and music knowledge onto the next generation.
"It is very humbling to be honoured with such a prestigious award," he said. "It is nice when you do your work well without looking for acknowledgment and receiving such recognition is just a wonderful thing," he added.
Under his production and guidance, Pastor Namba has groomed the likes of Mahalia Buchanan, Ntokozo Mbambo, Nqubeko Mbatha and many other gospel artists.
The KwaMashu-born musician says he is no fan of awards because he believes that credit and honour is due to God as he is only but a messenger of God, but added that he will accept this one award from the municipality as a gift and as recognition of what God has done in his life.
"Credit must be given to God. I receive this award today because God used me by installing the talent and powers to change people's lives; to become a living testimony that he can lift you from nowhere to be somebody," said Pastor Namba.
With his latest album, Restoration Hour still moving the hearts of gospel music fanatics, the family man promised his fans even more praise and worship on his next album which features his two daughters, Asanda and Awethu Namba.
In his closing remarks, Pastor Namba made an outcry to the South African government, urging for financial support for Joyous Celebration.
"Our government is mainly supporting soccer, boxing, athletics and the question we are asking is: Why not Joyous? Joyous Celebration is an institution that has produced many singers and created employment for the youth," said Pastor Namba.