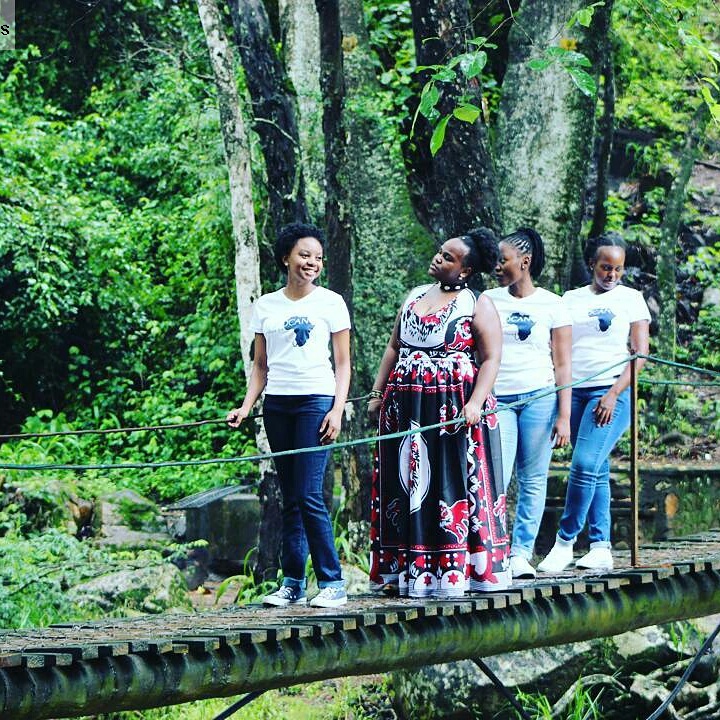 The emancipation of African women has been gradually gaining moment over the past few decades, despite all the unjust challenges they face as a collective.
Black women of all ages and backgrounds are now beginning to stamp their authority in predominantly male dominated spaces – be it in sports or arts, or in business and politics, entertainment, etc. One such lady that has taken full advantage of the emerging trend where women are able to determine their own fate (despite what societal norms dictate) is Wydra Xiluva Mathebula.
Wydra is an ambitious young lady from a small village called Dan in Limpopo. She is the only child, raised by one strong beautiful woman. She matriculated in 2012 from The King's Court College and then went on to further her studies at Unisa where she's currently pursuing a Degree in Psychology.
Besides her studies, Ms Mathebula is also running an organic natural hair-care business that caters for African Natives who take their 'beauty' seriously and are conscious of their identity. As a pioneering brand she regards it as a convenience to the modern day Goddess and her hair – which most people refer to as their natural crown.
At African Goddess we pride ourselves in delivering a pleasant and desirable relationship between you and your natural hair.
To those of you who are keen on trying out her organic hair range of products, it includes:
– Coco- Almond oil 100ml -R45
– Hairline Reviver 100ml -R45
– Black Jamaican Castor oil 100ml -R45
– Hair Pudding 250ml -R5
– Raw Shea Butter 250ml -R120.  100ml -R60
– Shampoo 500ml -R60
– Leave in Conditioner 250ml -R45
– Beard buddy 100ml -R40
And as expected of any Black owned business in this country's economic climate, Wydra does experience quite a number of notable challenges on a day to day basis. Most of the obstacles she faces are mainly caused by the fact that she runs Afrocan Goddess by herself. Hence, she is longing for the day when she starts recruiting and expanding her precious brainchild.
Some of the most common challenges she faces are delivering orders on time, manufacturing a sufficient number of products for her customers, as well as making sure that the financial books are kept in order.
"In short my main routine is all about being everywhere and sorting out everything, all at once on my own while trying to make sure that my mental disorder doesn't act up", she says.
Guys my hair care range is now available (gauteng and limpopo)WHATSAPP 0725974867 for FREE samples please RT for awareness pic.twitter.com/NThzBWWYnM

— Fairy God Mother (@miss_wydra) December 22, 2016
Wydra went on to tell us that she grew up with natural hair and was taught from a very young age how to take care for it. She got inspired to empower other women about their hair as well when she noticed how many people struggle with caring for their natural crowns.
Her initial idea was conceived back in the year 2015 where she tried to launch it with something called the 'Hair Mask'. Unfortunately that idea wasn't well received by the market, and so she decided to go back to the drawing board and later re-launched it in December 2016.
"My grandmother is the main source of inspiration. We used to run a bead business together. She introduced me to bead making when I was 7. She is also the one who has the recipe for some of my hair products and has significantly improved the range by adding a few more ingredients. So basically I'm using my grandma's blue print", she added.
When it comes to issues of donning one's natural hair or wigs and weaves, in relation to Africans and their identity, Wydra believes that there's nothing wrong for individuals to choose whatever it is they are comfortable in. For her personally she did try weaves at some stage of her life and quickly realised that they aren't made for her.
"I pride myself of my natural hair and whom Mother Nature decided to make me. I am an African and I am beautiful. Curls coils kinks and all."
Love and light to all @AfrocanGoddess supporters. Thank you so much pic.twitter.com/7rXsCfTAbi

— Apprentice (@miss_wydra) May 30, 2017