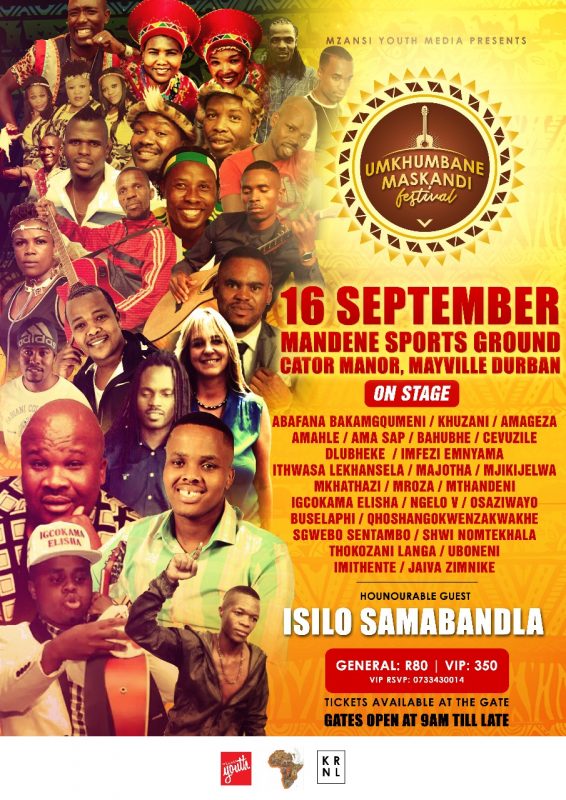 Event details
Friday | September 16, 2017
7:00 AM
Vusi Mzimela Road, Mayville, Durban.
+27 (63) 204 8955
Mzansi Youth Media together with the KZN Department of Arts & Culture presents UMkhumbane Maskandi Festival. 
UMkhumbane is going to be the one of the world's most acclaimed tourist attractions after the completion of its R75 million ultra-modern Cultural and Heritage Museum, as well as a memorial of King Goodwill Zwelithini KaBhekuzulu's mother, Queen Thomozile Jezangani Ndwandwe Zulu.
The establishment of UMKHUMBANE MASKANDI FESTIVAL is to celebrate this initiative while strengthening investor relations in the area for the benefit of local economic development and mostly to educate people about the richness of Zulu Culture.
Most of you may know that South Africa is home to eight of the 981 World Heritage Sites which are recognised by the United Nations Educational and Scientific Organisation as places of outstanding cultural and historical importance.
This concept aims to provide maximum ultimate touring venture for the locals and the touring public; offering quality edutainment experience during the September Heritage Month.
The ultimate aim is to create a stable, responsible and fun-filled Heritage Month that is educational yet entertainment for Cator Manor, fusing the rich history, culture, world-class Maskandi music and local cuisine, thus make Cator Manor one of the Heritage sites which is recognised as place of outstanding cultural and historical importance.
The staging of this event shall project Cator Manor as the value-for-money and alternative tourist's destination. On the day of the festival there will be stands dedicated to tourism information and investment opportunities associated with Cator Manor.