South Africa's government mentioned plans to implement changes in the schooling education system as the world shifts towards the 4th Industrial Revolution. Coding and robotics added to a school's curriculum for grades R to 9, is a 'privilege' for now as it looks like the new subjects will be piloted only to a selected few across all 9 provinces.
To help bridge this gap, small companies are helping businesses and offering their services at reasonable prices before the demand reaches its peak. Vincent Mataga, developer for Codebytes Creatives is doing just that, enabling the youth to gear up for the advancement of technology that is gradually taking place in the country.
Codebytes Creatives is a web design and development company focusing on multiple services such as software development, mobile application development, graphic design and digital marketing. Since the company's inception in 2016, it has grown client by client.
"We have grown in terms of handling small projects to larger projects, as we now have grown our expertise and skills that allows us to handle more projects efficiently. More clients seem to reach to us on a daily basis as we have proven to be a trusted and professional agency because we let our work speak for ourselves." Said Vincent.
Their success has prompted the start of a mentorship programme, free of charge for young people in villages and rural areas. They have helped more than 15 people with web design and other relevant skills. During June holidays, Vincent offers coding lessons and mentorship programmes for school children in Soshanguve but wishes to branch out to more schools in the coming years.
"Our 2020 vision is to start the mentorship program where we will go to villages and rural schools to teach them the 'internet of things' and coding skills. This is to equip the kids with with basic and advanced computer skills so their Varsity experience can be easy on them," he said.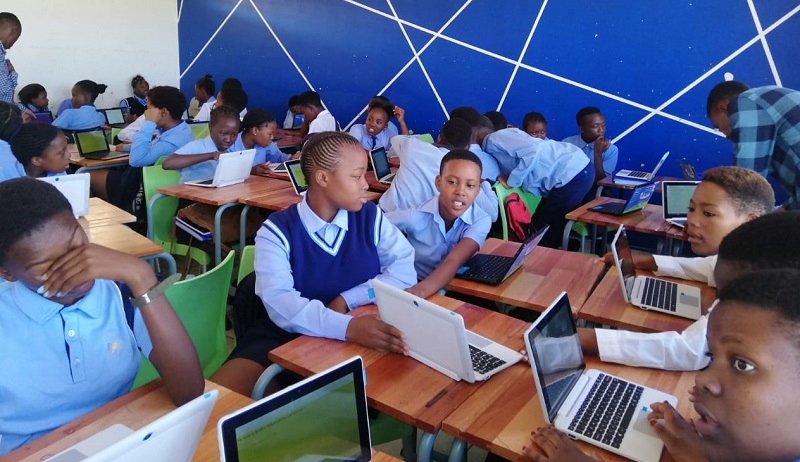 For the coding and robotics subjects in schools to work, proper infrastructure and resources provided by the government need to be introduced. This would be advantageous for Codebytes as resources will be readily available for them to carry out their duties without stressing about finances.
In the meantime, the company is pushing to get funding locally and international. Their aim is to raise enough money to be able to travel to schools. Vincent reckons that government indeed has a huge role to play but like many, exclusion is the biggest fear as most areas will not get to enjoy the benefits of this shift in the education system. Rural areas are being neglected and they are often not exposed nor aware of what is happening in the digital world as compared to the suburban communities.
As an expert and a person who is deeply passionate about web education, he shared his thoughts on how government can be involved; suggesting that coding should be fully introduced in the curriculum so every child can have the necessary knowledge as they are we now living in a digital world.
"The demand for highly skilled people is rising globally. You might have noticed the new 'improved' way of picking and paying for your order at your nearest McDonald's, without the use of manual labour. Companies are retrenching workers at an alarming rate."
As a young person who may have been afraid of what the future held for her/him and a soon to be graduate, Vincent says the youth should learn how to code so that they can employ themselves and use the internet as their workspace because that's where all the clients are, not only nationally but globally.
To get into contact with him, eMail: info@codebytes.co.za or alternatively you can visit www.codebytes.co.za for more information.
~ jess@ngcoboempire.co.za