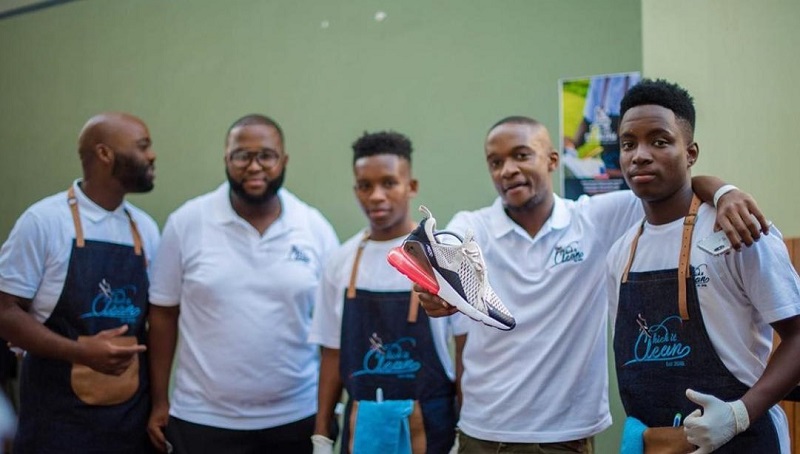 Apart from completing a ravishing outfit, shoes can be a self-determining factor in our everyday lives and it's simple for other people to judge you based on them. For instance, someone that wears worn out and dirty shoes at an interview may come across as careless and lazy. Whereas an individual that wears a clean pair appears as hygienic and ambitious.
Although many of us may have numerous shoes, it is still a struggle to maintain them and when they get tattered, we often avoid wearing them. In January 2018, Nkanyezi Msomi and Sakhile Mazibuko launched their company called 'Kick It Clean' with the aim to assist in keeping people's shoes looking good, restored and well polished.
Prior to 'Kick It Clean' being launched, Msomi claims that he observed how his family and friends always complained about struggling to sustain their shoes. That is when he developed an idea to form a business that deals with keeping kicks well-maintained; joining forces with Mazibuko who specializes mostly in the Marketing aspect.
The services rendered by KIC consists of an ordinary and a white sneaker wash, Suede/Nubuck polishing and high heels repairs. They also maintain bags and caps from the price range of R30 to R150, there may be additional costs depending on the package. What is fascinating about this business is that it works like a laundry with delivery facilities where one could call in to have their shoes picked up for a wash and they are later returned looking immaculate.
The delivery deal requires a minimum of 5 pairs in order for it to be free, meaning that they are fetched and returned to your home. However, for those that are always occupied and have no time to run errands, the company offers house calls that requires a minimum of 15 pairs of shoes to be cleaned.
"We specialize in refurbishing and restoring kicks, bags and caps. To us this is a lifestyle. We want people to acknowledge that they can go ahead and buy their exquisite sneakers, we are available to keep them up to standard as our contribution to the Durban culture," explained Msomi.
The duo believes that their brand has a great deal to offer as they foresee themselves expanding the business to a broader clientele. Their objective is to infuse all the detergents they have used previously to create their own product, and once it is ready, they will package and promote it.
"We believe in our brand and the lifestyle we are promoting, we may have competition but it's the healthy kind that keeps us driven to do more. We are happy with how far we have come, although we are working towards an enormous future," adds Mazibuko.
The KIC team allows drop-offs to this Address: 5 Minerva Avenue Glenashley, in Durban North. An alternative place for dropping off items is at (SX Media and Marketing) 69 Churchill Road in Windermere. Give them a call on +27 71 844 0966 or check them out on Instagram @Kick_It_Clean
~ fundizungu@ngcoboempire.co.za