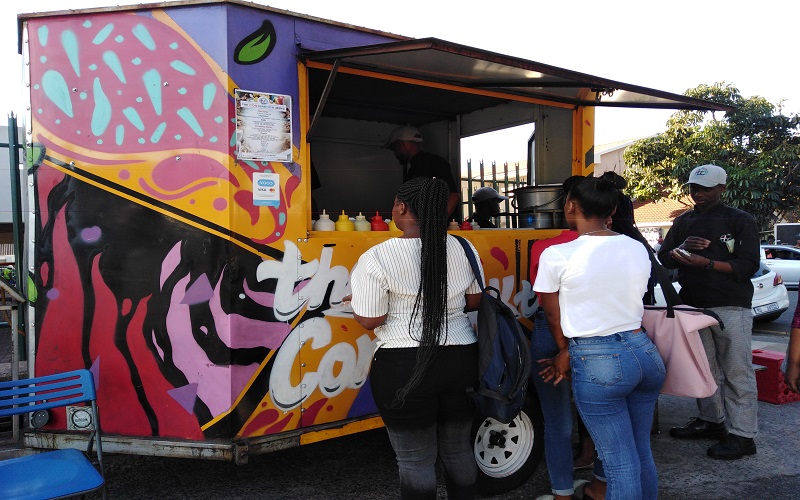 Street food (commonly referred to as 'Kasi food') is a South African lifestyle and identity. It is how multiple cultures and the diversity of the country is showcased. It is additionally fascinating when it is prepared in a unique style, with a twist.
Following years of studying and working in the United States, Simphiwe Asiedu-Adjei from Umlazi, distinguished a gap in the South African market of food trucks. That is when the 24-year old decided to start a food truck restaurant called The Conjunktion (TC). He claims that his passion for food drove him to start up the business, particularly because he wanted to introduce something distinctive to his city.
Asiedu-Adjei joined forces with his friends Mthokozisi Hadebe (24), Thabiso Ngema (26) and Prince Ngubane (23), whom he shares with a common interest – which is a passion for food.
The group is known for serving Kasi flavoured gourmet food; a combination of the American and South African cuisine. Even a browse through their menu proves how eccentric their food is. It consists of wors roll, gourmet burgers, wings, sandwiches, izinso (beef kidneys) and isibindi (Ox liver).
"Before I initiated the idea, I learnt that we lacked food trucks that sold gourmet food. My plan was to introduce it to the streets with a twist, since it is mostly sold in high profile restaurants." 
Their food might appear as fancy and overpriced, however, their prices are surprisingly convenient and affordable. They accommodate all classes of people, with meals that cost as little as R25.
The foursome originally started providing their services in Umlazi before they were requested to move to their current location on Steve Biko Road. According to the group, relocating gave their business more exposure and it has been growing ever since.
This growth has also come in the form of an award. The young entrepreneurs were recently presented "Best Foodie Award" during the Durban Creative Awards that were held at The Playhouse Company in Durban. The team believes that winning the award was a blissful start for their business, as they celebrate their first anniversary in business.
"Receiving an award was a cherry on top of a cake, this reveals that all the time, love and dedication we put in our work is being recognized. This shows that people appreciate us and they really do regard us as the best burgers in Durban," said Asiedu-Adjei.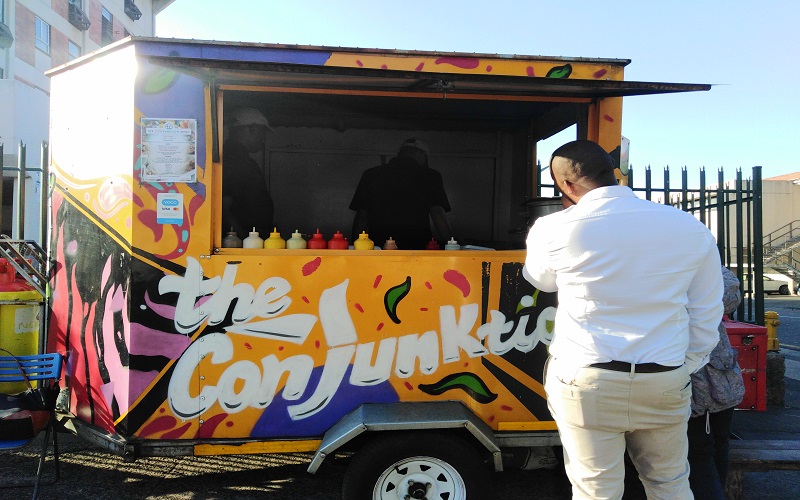 He further adds that their objective is to have their own restaurant and to be recognized as one of the biggest food brands to ever be established in Africa. They also have hopes of having more trucks and getting recognition from shopping centres and malls. On a larger scale, they would love to be acknowledged internationally.
The enthusiastic quartet will also be heading an event called The Conjunktion Experience that they hope will become an annual occurance. The event will be held at Whirling Wheels Social & Sports Club for the Disabled in Windermere on Saturday, 24 August 2019. In addition, other food stalls will be available, alongside music, live art and poetry showcases.
The aim of this experience is to bring different events together for people to enjoy in one space. This has always been the groups motto and vision, as their name is taken from the English word "conjunction", which means two or more events occurring at the same point in time.
Want to know how to find The Conjunktion? They are situated near DUT's Steve Biko Campus from 11am- 9pm, Mondays to Saturdays. You can also follow them on Instagram @the_conjunktion or contact them on +27 74 583 3427.
~ fundizungu@ngcoboempire.co.za