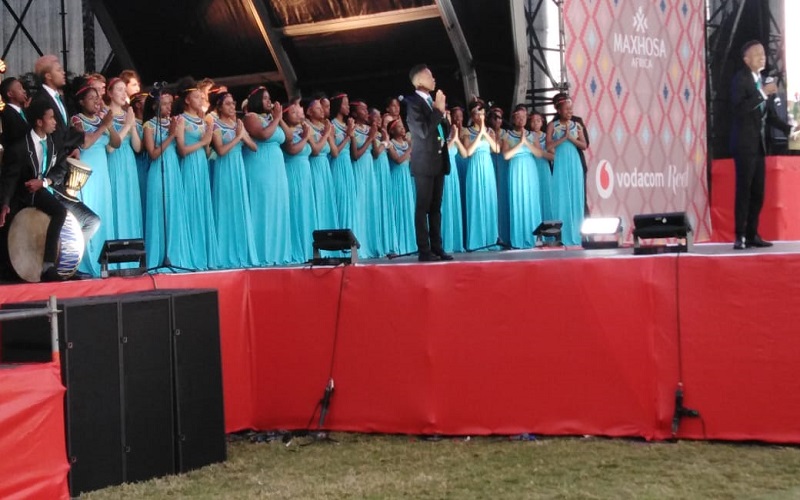 The KwaZulu-Natal Midlands Choir embraced its Africanism at this year's Vodacom Durban July (VDJ) by performing one of its greatest African-inspired sets.
This year's theme 'Stars of Africa' was brought to light not only by the fashion or the massive cultural wave that hit the horse racing event, but also by the collective harmonious voices of the youth choir.
The ensemble's 20-minute performance, after the main race, was described by one of the audience members as 'Angelic'. Braam Potgieter, the choir leader, described their set to be inclusive of African pieces emanating from a sacred section within modern music.
The internationally recognized choir consists of 16 schools from all over KwaZulu-Natal Midlands area, forming a diverse group of 80 choristers. These schools include Michaelhouse, Grace College, Pietermaritzburg Girls' High and Maritzburg College, to name a few. Leading up to any major performance, the choir members perfect their art by means of a weekly five-hour rehearsal.
Having toured internationally and won numerous competitions, such as the World Choir Games in Belgium where the group won Silver, it also boasts performing for Queen Elizabeth at the Queen's Jubilee in England in 2013. Other proud moments include performing in Germany in 2016, and performing with Christopher Tin; a world-renowned composer from Wales – in 2017.
Its stellar performances and impressive display of African culture is what has earned the group its several invitations. "We reckon that the world does not understand the African vibe so we feel the need to educate them through our performances where we fuse classical, pop, RnB and mostly African music," said Jared Richardson, one of the group members.
The choir has a reputation like no other. Having won numerous times compared to its competitors nationally, it is not only one of the largest and most successful choirs in South Africa, but its diversity has earned them the title of the most wins globally by a young choir.
This past Saturday's performance was the ensemble's very first at the VDJ experience and composer, Gerard'd Du Toit, said that they feel honoured.
He further said: "music brings everybody together, and it is the best way to bring the youth together. We have the most amazing youth in KZN and diverse too. Black, White, Indian, Coloured and Chinese. We all come together singing and sharing the same love for music, no better way than bringing a nation together."
This month the choir has another international tour scheduled in Austria, Croatia and Slovenia, where it will be participating in a choral competition. Most of its performances are for fund raising purposes.
~ jess@ngcoboempire.co.za