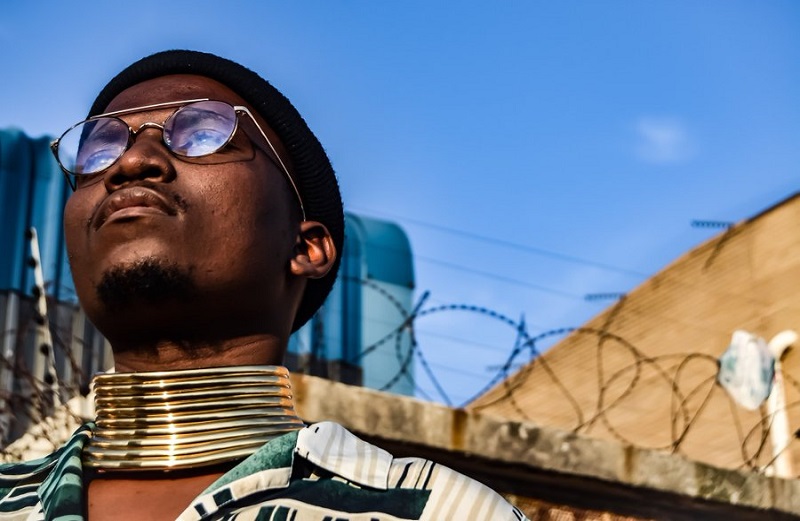 Mnqobi Ndunakazi (better known as Mnqobi Yazo) is a singer, writer, producer, actor and director who hails from KwaMaphumulo, on the north coast of Kwa Zulu Natal. The multifaceted artist burst into the music scene back in 2018 with his smash hit '247' which is track 6 of his 9-track debut EP titled Iscephu.
Although his sound is modern and wavy, he is resolute in keeping many elements of it as African and indigenous as possible. In his music, Mnqobi Yazo tackles a wide array of subjects; such as spirituality, abuse, depression and black consciousness.
We caught up with the exuberant artist to delve into the core of his career, his plans, as well as his influences.
— When did you start your music career?
I started back in High School as a rapper. I would bunk classes to go to the studio and ended up failing grade 11. In matric I started to rap and sing, and the guys were shocked that I have a singing voice. I wasn't producing at the time, so the guys in studio started giving me more melodic beats to sing to. That is when I chose to make my sound more African. Things started looking up for me in college because I was studying Performing Arts, which is why most of my music is theatrical.
— Having mentioned that you were a rapper, one also gets the idea that you were/are a poet, especially looking at the title of your debut EP, Iscephu. Is there any significance in the name?
Yes, I used to be a poet and there is a significance. So, Iscephu is my first project and I was launching my career in the industry as a whole. Iscephu, the word, is icansi elincance [a small traditional grass/straw mat] so with that I was laying my sound out for the listeners, giving them a taste of what's to come. I was letting them know that this is me; this is Mnqobi's iscephu. Take a seat and listen.
— Your music has a lot of depth and content. One can think of track 4 'Konakele' which tackles a major social ill, femicide. Another is 'Inqanawe' which is about depression and anxiety. What was your thought processes when you wrote that in particular?
Yes, Inqanwe, hey. I recorded it at night, you know when you're alone and you have some 'me time' 
So, with Inqanawe I was looking at my blessings, yet also very doubtful about those blessings because in the back of my mind I'm thinking: "But Mnqobi, you might not make it in the industry." If it happens that I fail in the industry, what will I do next? Art is all I know and that is what I am good at. So without it, there's nothing else that uMnqobi can do and that was a terrifying thought. In the song I mention that Jesus suffered on the cross, so who am I not to suffer?
Having said that, I am grateful for my blessings, big and small. My music is playlisted on radio and God has lifted me up. Even people back home did not imagine that one of their own would make it this far. So Inqanawe is a very personal song. It's not popular, but I always get messages from people who relate to it.
— You classify your music as simply 'African' and it has a deep-rootedness in spirituality and heritage, tell us more about that?
When some people do this kind of music, they do it as a sound; for me it's spiritual. It is what I grew up listening to and it's what I understand. My spirituality and ancestral belief has influenced my music a lot. Singama Nazaretha futhi ekhaya [we are also members of the Nazareth Baptist Church founded by Isaiah Shembe] A big part of my musical influence stems from back home. This is why my music focuses on awakening the black child and reminding them of who they are. This is why I don't see other artists who make similar music as competition. I'm actually happy when I hear their music because it shows that I inspire people to do African music. Being African is cool.
— Besides music, you also play the character of 'Nyandeni' on Ukhozi FM's radio drama, Buchitheka bugayiwe. Tell us about that. Will we see you on our TV screens in the future?
Oh yes, uNyandeni 'The Nyan'nyan'! Like I said, I studied Performing Arts, so my primary focus was acting before I pursued my music career. I've been to festivals like the one in Grahamstown called the National Arts Festival where I submitted shows that I wrote, directed and also had acting roles in. The name of the two shows are Asazi and Inyathuko. Right now I am working on something. I will be on your screens soon.
— What else are you currently working on?
A few things actually. Next week I'm shooting the 247 music video, so that [too] will be on your screens soon. I will also be dropping my album later this year titled 'Impi'. I want to make it a double disc album where one side is the Mnqobi Yazo you know, and the other side is even more African because I still want to travel Africa and work with people who play different sounds.
— Speaking of African artists, one of your idols is the late Oliver Mtukudzi and you got to open for him last year when he performed in Durban. Which other artists would you like to work with?
I would like to work with Salif Keita from Mali. If Fela Kuti was still alive I would have loved to work with him too. I like working with people who are deeply African. In SA I'm trying to connect with ubab' Caiphus Semenya, Ladysmith Black Mambazo – people I grew up listening to. Even though my music is new school and I do many genres, there is a lot that I would learn from them.
— Biggest highlight of your career?
There are so many. I don't know where to start. I've performed at the Hazelmere Jazz Festival. I've always wanted to perform there because I get to share the stage with the many legends I would like to work with and it's really great….. it's humbling. Another highlight is getting to perform 247 at big clubs.
Connect with Mnqobi Yazo on Twitter: @MnqobiYazoSA and on Instagram: @Mnqobi_Yazo
For bookings, email: mnqobiyazobookings@gmail.com and his music is available on all digital platforms.
— thule@ngcoboempire.co.za