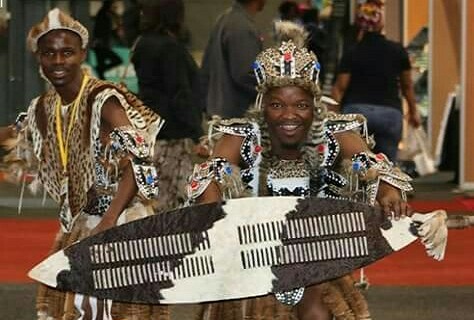 Bridging what was once a huge gap between artists in Ndwedwe, and access to knowledge and information about the arts, is a forum that aims to ensure that local artists get enough opportunities to showcase their talents.
Launched on the 20th of June this year, Ndwedwe Artist Forum was founded by Mphathi Ndlela with the assistance of Sipho Gwamanda and the Ndwedwe Local Municipality together with the Department of Arts and Culture.
Speaking to our News team, Ndlela (29) who is also from Ndwedwe, says that it was the skills he learnt while studying Artist Management at the KwaZulu-Natal United Music Industry Association (KUMISA) that inspired him to start such a platform.
It was after his studies that Ndlela started distressing about the future of Ndwedwe's upcoming artists, and therefore resolved to go back home and discuss the problem with the leaders of the community. Fruitful discussions led to a decision to start an artist forum structure that would help manage Ndwedwe based artists.
"We are also playing a big role in decreasing crime in our area by keeping our youth busy with things that are clear and rewarding." 
The forum works very closely with its artists by providing the necessary information that helps them enhance and monetizing their skills. This service includes the necessary paperwork to register their music, as well as getting proper management. Their artistry is enhanced through stage performance coaching and guidelines on how to handle themselves professionally during events. By so doing, the artists are accustomed to perceiving their artistry as a business at an early stage.
Some of those who have benefited from the forum include Abadlal'be Jazz who recently recorded a single with one of Durban's well known hit makers, Bhar and Young Cannibal; who is a rapper. The list also includes Manephunephu who is one of the best Maskandi artists in Ndwedwe, as well as Army G who has just released an EP titled 'Nothing to Something', which has been doing well, as Ndlela says that he is getting booked every weekend.
Not only is the the forum dedicated to musicians, but it also caters for visual artists. It has played a huge role in developing visual arts with the help of Amabheshu Innovators, a company that creates traditional attires and accessories.
Currently, the artists are preparing to take part in the 3rd annual Indayi Homecoming Festival which is set to take place on the 23rd of December this year in Ndwedwe. They will get an opportunity to showcase their skills by performing various genres of music and also share the stage with some of the country's biggest names in the music industry.
Ndlela also made reference to how his organisation continues to have a momentous impact in his community, especially amongst the youth.
Expressing his gratitude to the Ndwedwe Local Municipality for assisting in the foundation and growth of the forum, he added that he owes it all to the artists of Ndwedwe for giving the forum a chance to work with them.
Find them on Facebook: Ndwedwe Artists Forum or interact with Mphathi Ndlela via Email: mphathindlela@gmail.com
~ Thabile Shange