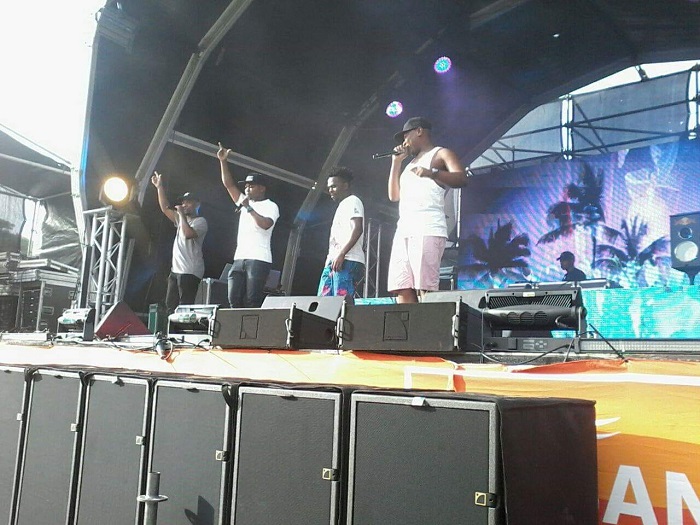 Previously described by the late jazz maestro, Hugh Masekela, as 'the core of township feeling', kwaito is a musical genre that is deeply rooted in the rich South African history.
Made popular by its flag bearers Bongo-Maffin, Trompies, AbaShante, Brothers of Peace, Ismael, Mandoza, M'du Masilela, and the likes; kwaito was the voice of black South African youth.
Over the years, the once seemingly indomitable genre has dwindled in popularity and taken a back seat to new comers such as Gqom' music. This has led many a people to believe the recurring statement – 'kwaito is dead'.
However, this is not the case according to popular Durban based group, Decent Friends.
"We think there's a misinterpretation and misrepresentation with that regards. You should see how the same people respond to the so called "dead" kwaito music. Kwaito is the language of ekasi," they say.
The trio hails from the South Coast and is made up of musicians Siphiwe 'Sbopho' Mnhoma, Muzi 'Mpheristo' Luthuli and Zwelethu 'Budda Stanza' Myeza. According to these artists, there are still a large number of people who want to tap into the distinct and lively sound that is kwaito music. This, they say, is regardless of the popular sounds that currently dominate the music scene.
All formerly solo artists, Sbopho, Mpheristo and Budda Stanza began working as a group after their first two collaborative singles (Makudlala Lenamba and Shayela Phansi) were well received by old and new kwaito fans. It is then that they decided to form a group and settled on the name Decent Friends; a reference to how most listeners initially described their music – as 'decent'. Now fully seasoned in the entertainment industry, their music is far from the description it once received.
Pinpointing what sets them a cut above other kwaito musicians, their talent and grit is what stands out for them. They also believe that it is their lyrical prowess, delivery and humanity that has pushed the envelope when it comes to their music.
Currently, their single entitled Muntu Wam, released under the Bang the Drums Project 2020 (a body of work that features various artists such as Xoli M, African Roots, and SoulStar) is on high rotation on major radio stations around the country. A host of their catalogue, including their festive track entitled Amantombazane with DJ Sonic (featuring another kwaito artist, Bhar) has also been playlisted on major radio stations locally and internationally.
Not limited to the airwaves, Decent Friends have featured on SABC 1's popular music game show 'Fanbase' and their music has become a part of the many soundtracks to eTV's soapie 'Rhythm City'.
Placing emphasis on music being a universal language, the group believes that it creates music for people from all walks of life; which is the reason why it can cater to such a wide international audience.
Going forward, the trio hopes that their hard work and respect for the music business will propel them to greater success and impact those looking to them for help and inspiration.
For Bookings and Enquiries, Email: DecentFriends@gmail.com and interact with them on social media. They are on YouTube, Facebook, Twitter & IG: @DecentFriendsSA
~ Thabisile Ngeleka