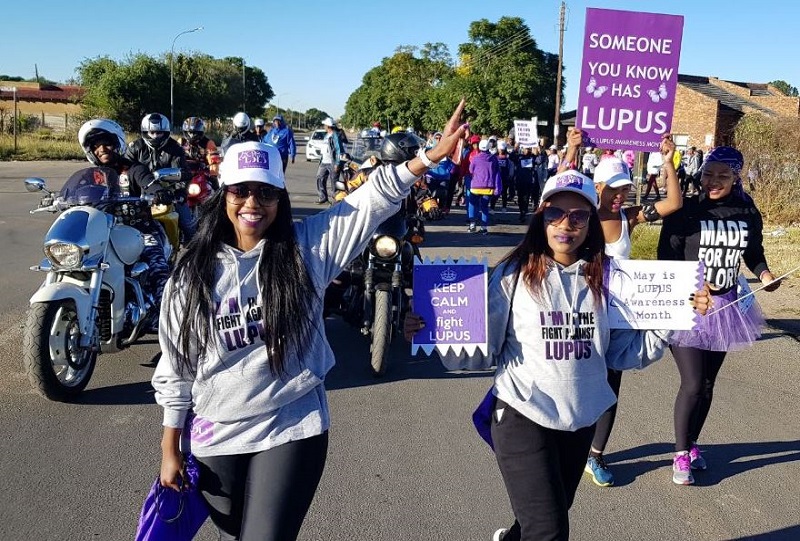 Your immune system is the body's natural defence mechanism against infectious organisms and other invaders. Now imagine a condition in which it begins to attack and destroy itself, resulting in the failure of your major tissues and organs.
This is the unfortunate reality for millions of people diagnosed with Lupus around the world. It is an autoimmune disease which causes inflammation that affects many body systems including your joints, skin, kidneys, heart, lungs, blood cells and brain.
According to the Lupus Foundation of America (LFA), approximately five million people worldwide suffer from a form of Lupus. Of this figure, an estimated 90% happen to be women. The age group most affected by the disease are women between 15 – 44 years.
One such woman is Lolo Lekgoane, a young activist who was born and bred in the small town of Mahikeng in the North West Province.
Now at 30 years old, Lekgoane was first diagnosed with Lupus when she was just 25. She recalls experiencing excruciating pains, malar rashes and extreme fatigue that eventually left her bedridden.
This was a terrifying ordeal for the television presenter who was not the first in her family to suffer from this disease. Her aunt also suffered and eventually succumbed to the illness due to late diagnosis. This was quite the scare for Lekgoane.
But one to always look for a silver lining, she began to use her circumstances as an opportunity to educate herself and those closest to her. With extensive research, she found that the pandemic continuously claimed the lives of predominantly women, like her aunt, because it is still not foregrounded and prioritised. It is for this reason that she started the Lolo Lekgoane Lupus Foundation.
"I wanted to do it in memory of my aunt and every other woman who passed on at a young age due to late diagnosis and misdiagnosis," she said.
However, misdiagnosis and late diagnosis are just a scratch on the surface when it comes to the problems Lupus patients are faced with.
A waiting period of 12 months before you are covered by a medical aid company, and under resourced academic hospitals (meant to provide medical assistance) are what lupus patients have to contend with in South Africa. These are some of the issues Lekgoane hopes her foundation can help tackle in the future.
Her grand-scale goals for the foundation include providing medical centres, research facilities and adequate care for those suffering from the ailment across the African continent. Even though her foundation is only in its sixth month of operation, it has already made great strides in the direction of its goals.
"We hosted our first annual lupus awareness walk in Mahikeng to educate and inform the community. We give talks in communities, churches as well as at local clinics," Lekgoane said.
The foundation has also helped establish working relationships between Rheumatologists (physicians who specialize in autoimmune diseases including lupus) and their patients. This, according to Lekgoane, has been a great feat for her organisation; as she believes that for one life to be changed through correct diagnosis and care every day, is great victory.
Looking towards the future, she hopes that through her foundation she is able to dispel any preconceived ideas and also raise awareness on the actual severity of the disease, especially in South Africa.
For more enquiries and to purchase Lupus branded tees, contact Lolo Lekgoane on twitter: @Lololek or visit their website: www.lllfoundation.co.za
~ Thabisile Ngeleka