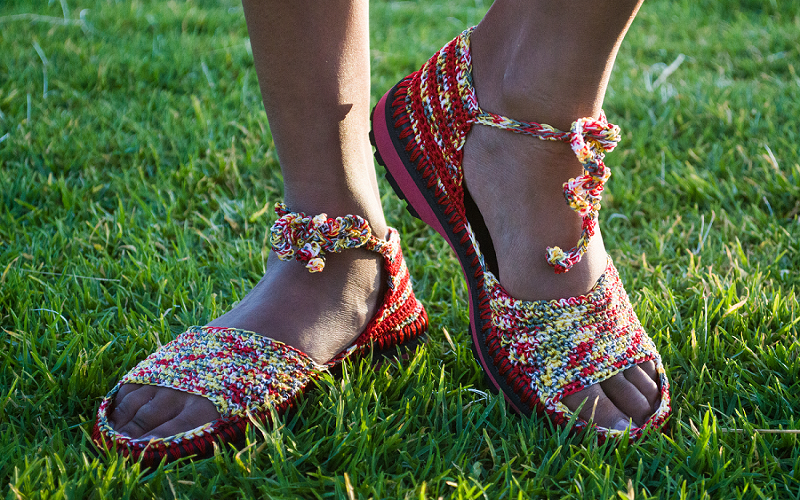 "Be black, buy black, think black and all else will take care of itself." These words were once spoken by the late Marcus Garvey, a tremendous leader of the Pan-Africanism movement.
One person who understands and lives by these words is Khulani Sikhosana. Hailing from Vosloorus, East of Johannesburg, Sikhosana is the co-founder of Vuka Darkie, an online magazine which gave birth and helped nurture the Mama Kea brand.
Mama Kea Creations is a hand-woven footwear brand which was founded in 2016. The brand reinterprets ancient African art and science of weaving, in the form of shoes. It is also a craft that is passed on from generation to generation, which is evident on a number of African goods i.e clothing, thatch roofing, basketry etc.
Speaking to the Ngcobo Empire crew, Sikhosana explained how the brand started on a zero budget and worked its way up. "Working with my team, we made three pairs of shoes and did a professional photo shoot. Subsequent to that, we publicized the shoes online, using a pre-order system whereby a customer pays a 50% deposit. We then used the money to buy material and also cover labour costs. The customers then pay the outstanding balance when the product is complete."
The brand name stems from the words 'Mama' meaning mother, and 'Kea' which means home where the heart, soul and spirit is. "The brand represents the unconditional, undying motherly love, comfort and warmth given to us by nature," Sikhosana said, adding that the shoes are hand-woven with the same love and undying passion.
The designs are widely inspired by the rich and diverse African culture, as well as nature, using acrylic nylon and rubber. In some of the designs, a set of Pan-African colours are incorporated. These colours are red, green and black; which were founded by Marcus Garvey. "We use art and design as a revolutionary and political instrument to inspire black initiative. Our designs are symbolic of African culture," said Sikhosana.
Black Consciousness being the theme at Mama Kea Creations, Sikhosana says that their craft has been well received to such an extent that the team has set a strong footprint, spanning the continent and diaspora. "We do not recognise the borders and we deliver in all corners of the world. The aim is to constantly localise (in Africa) our manufacturing and internationalise our distribution channel," he added.
According to Sikhosana, buying black is a culture and lifestyle that creates jobs and feeds black families. "Producing black is the key. Either you produce black or buy black or do both. We wouldn't be stressing 'buy black' if you weren't buying white/Indian/ Chinese whilst starving those that look like you. The irony is that those you buy from don't buy from your own kind," he explained.
True to his stance on supporting black, in a recent post on Facebook, the gentleman shared photos of himself and his brother rocking brands from local black designers. The photographs were coupled with an inspirational caption which ended with the words, 'Black consciousness must also materialise in what you wear and how you live.'
— Thabile Shange