"I believe writing is one of those things that find you and never lets go until you have fulfilled its purpose," says self-published author, Bokang Maragelo.
Maragelo, who last year published his first poetry collection book titled Things The Fire Left Behind, did not always plan to become a writer. Growing up in the mining town of Rustenburg, he recalls always enjoying writing but never credited it as his first love; instead, this is a title he gave to computers and technology. As a true testament to that, Maragelo chose to pursue a career in I.T.
Having no budget and no publisher for his first book, Maragelo took advantage of the internet's low cost (which also gave him the freedom to utilise his I.T. Skills) and self-published his book digitally.
According to Maragelo, Things The Fire Left Behind, was unplanned. An avid user of Twitter, the writer regularly posted threads of poems on the app which eventually gained quite a following. After seeing the good reception his poetry was getting, Maragelo saw the need to publish all his poetry into one body of work.
"I gave the first copies out for free, then people came back and started paying for them. It is still selling to this year ever since September 2017."
Things The Fire Left Behind not only explores themes of abandonment and loss, but it also looks at the stigmas surrounding mental health in the black community. Maragelo is no stranger to mental health stigmas as he, too, suffers from mild depression and anxiety.
The young poet believes that the concern around South Africa being labeled 'a nation of non-readers' is largely influenced by a lack of South African writers who are willing to tell South African stories that South Africans can relate to. "It is hard to be part of something that does not speak to you or represent you," he said.
Speaking on his influences, Maragelo credits Jasmine Mans, Trista Mateer, Warsan Shire and South African writer, Tshiamo Modise as his inspirations. Even though their influences are visible in his work, Maragelo believes that intention and reason for writing always sets writers apart.
"As a writer, you always have to find a way to isolate yourself from other people's work so that your work and message does not get dismissed as a rip-off of someone else's work," he added.
Things The Fire Left Behind is available on Amazon and Google Books. For more details email Bokang03@gmail.com or follow @BokangWrote on Twitter.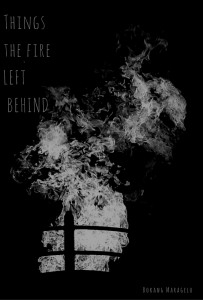 — Thabisile Ngeleka