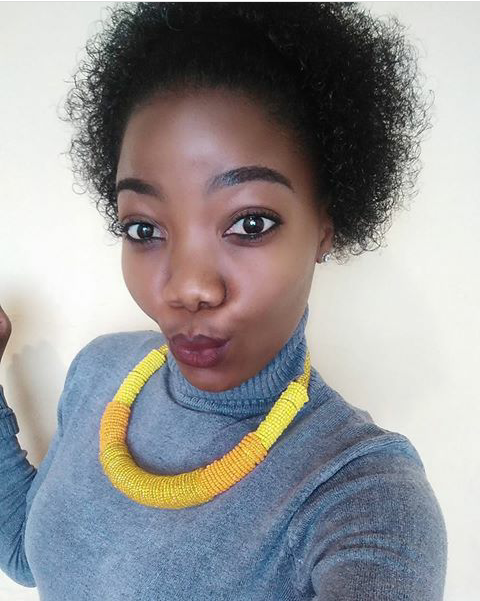 African bead work dates back to many centuries when jewelry was made from natural resources such as ostrich eggshells, plant seeds, stones, etc. Later, designs became more complex and these resources were replaced with materials like wood, seashells and metal.
A young, beautiful, career driven woman, who is the owner of a beads jewelry company called SamuFied Beads, has ensured that this rich history lives on and continues to become a form of artistic expression that trends.
Samukelisiwe Xaba was born and raised in Snakepark/Doornkop Township, Soweto in Gauteng. She says that she is determined to make her mark in the beading and art industry.
Having attended Mayibuye Primary School and completed her education years at Thulane Secondary School, Xaba is currently doing her Diploma in Information Technology at UNISA.
This 23 year old entrepreneur said that she draws her inspiration from her mother who is also a hand bead maker. Although she cannot recall the exact age at which she fell in love with bead making, she told us that her first work was a neck piece.
"I learnt beads making from my mother at an early age. I've always loved neck-pieces but not the ones everyone loved and owned. I wanted mine to be unique and that's when I decided to learn how to make them." 
The first time Xaba wore her handmade neckpiece in 2016 at church, many people fell in love with her work. On that day, she received many orders and before she knew it, her clientele was growing at a rapid rate.
"After people saw what I could do they placed their orders in numbers. I sold more than 1500 neck-pieces and that's when I realised I can own my business through beads making and since then I've been generating cash from different designs that I make," she added.
SamuFied Beads Jewelry was established in mid-2016. The success of this business has lead to Xaba being a supplier for different boutiques and jewelry stores, i.e  Kstyle Jewellery. Her rich colours, patterns and designs are now sold in many different stores and are also traditionally used as jewelry among different tribes.
Seeing that SamuFied is still a new business, Xaba said that her family support has been key to her success thus far. They help her complete big orders, and continue to remind her of her dream – which is to grow her business into a household name.
"I'm in a process of registering my company, opening an online shop next month and renting walls to well-known boutiques," she said.
Like any other businesswoman or man, Xaba faces difficulties as some people place orders but refuse to pay for them when the time comes. However, she assured her customers that she will not stop doing what she does.
Xaba dreams of opening a beading school under her name and says that this, among many other things, is her long term goal. Check out some of her beautiful work by visiting her personal Instagram account: @SamuXaba.
Should you want to place an order or have any inquires, send an email to samukelisiwe.xaba28@gmail.com